FREE Muscle Building eBook
Add Up to 1 Inch to Your Arms in Only 30 Days!
Enter your first name and a valid email address
for free instant access to this amazing muscle building program.

Albert Beckles Arm Workout
Build Big Arms Workouts

Download Now!
What was Albert Beckles arm training routine?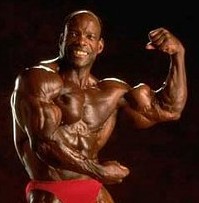 Albert "Al" Beckles was born in Barbados on July 14,1930, he immigrated to England in the 1960's and was always keen to compete as a bodybuilder. Once he started competing he never stopped and from winning Mr. Britain in 1965 until his last competition where he placed 8th which was nearly 30 years later at the Niagara Falls Pro Invitational in 1992.
Although Al never won the Mr. Olympia competition he was always in the top ten professional bodybuilders and often placed in the top five. His best years were between 1970 and 1972 where he seemed to win every time he stood on stage.
He won the Mr. Britain again as well as Mr. Europe and the NABBA Mr. Universe as well as the IFBB Mr. Universe plus Mr. World. Al seemed to be unstoppable and although he was not the most gifted bodybuilder he certainly left his mark on the bodybuilding community in his 30 years of competing.
The year before his last competition in 1992 at the age of 61 he won the Niagara Falls Pro Invitational which has put him in a class of his own when it comes to competing as a professional bodybuilder as competing at that age has never been done before or since.
Competing in over 100 different bodybuilding contests he is also a bodybuilder with the most professional appearances. Standing at 5'7" and competing at around 220 pounds he came in showing well-proportioned 19 inch arms with a good symmetry and good balance.
Al Beckles trains his arms with special attention paid to getting what he calls "peak contraction" specifically when doing curls. He explains that he resists supination when doing D/B curls until he gets very close to the maximum contraction of the muscle.
Al would do around 12 sets for biceps alone which would be separated into D/B curls to start followed by cable curls and concentration curls and then finishing off with one arm cable curls. It was this type of training that gave his the distinct feature of showing both heads of his biceps very clearly when on stage.
For more information go to Old School Arm Training
This publication is presented for information purposes, to increase the public knowledge of health and fitness.
The information presented is not intended for the treatment or prevention of disease, nor a substitute for medical treatment, nor as an alternative to medical advice.
Any of this advice should not be adopted without a consultation with your health professional.