FREE Muscle Building eBook
Add Up to 1 Inch to Your Arms in Only 30 Days!
Enter your first name and a valid email address
for free instant access to this amazing muscle building program.

Biggest Arms
Build Big Arms Workouts

Download Now!
Who Has the Biggest Arms in the World?
Biggest biceps
It is claimed that Greg Valentino has the world's biggest biceps and biggest arms at over 28 inches! (70cm!)
I disagree, Greg Valentino's arms are not just muscle, he has used huge amounts of sytnhol oil and his arms just look like great big water balloons.
So who has the biggest biceps in the world?
I feel it is Manfred Hoeberl who had 26" arms which at one point was a world record.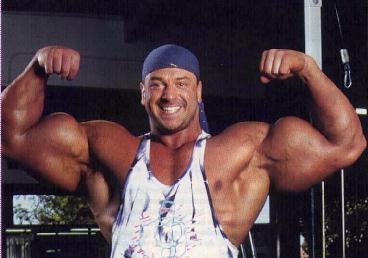 For more information go to Old School Arm Training
This publication is presented for information purposes, to increase the public knowledge of health and fitness.
The information presented is not intended for the treatment or prevention of disease, nor a substitute for medical treatment, nor as an alternative to medical advice.
Any of this advice should not be adopted without a consultation with your health professional.