FREE Muscle Building eBook
Add Up to 1 Inch to Your Arms in Only 30 Days!
Enter your first name and a valid email address
for free instant access to this amazing muscle building program.

Bob Paris Arm Workout
Build Big Arms Workouts

Download Now!
What was Bob Paris arm training routine?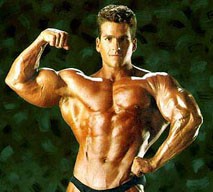 In 2006, Flex Magazine decided to rank Bob Paris as the most aesthetic competitive athlete in bodybuilding history. Bob was renowned for his artistic approach to the sport and his aesthetics. Bob is also a dedicated advocate and very outspoken about pushing for drug testing for all professional bodybuilders.
When Bob's perfect presentation at the 1988 Mr. Olympia only got him 10th place the writing was on the wall on exactly which direction bodybuilding was going. The judges decided that the massive amount of muscle Lee Haney was showing would beat balance, proportion and symmetry every time.
Bob placed 14th at the 1989 Mr. Olympia and 12th at the 1991 Mr. Olympia which is when Bob decided to retire from bodybuilding. Bob remains an activist for civil rights and is a sort-after motivational speaker and writer. Bob was also a highly paid model and is classically trained as an actor.
Of the 32 pro contests that Bob entered in his career as a bodybuilder, 21 of those happened in an exhausting 18 months, as he tried to prove his point that despite presenting balance, perfect proportion and excellent symmetry, the only bodybuilding competition he ever won was Mr. Los Angeles in 1981, The NPC and the IFBB heavyweight title in 1983.
When Bob first stepped onstage at the 1984 Mr. Olympia after winning the IFBB World Amateur Championships the world was aghast as his flawless presentation and everyone agreed that this was a future Mr. O. But it was never going to happen because the judges wanted size, lots of it and the more the better.
Bob refused to push his striations and his size into that "freaky" zone which is why he never won anything really big and placed 3rd nine times at top international bodybuilding shows. Bob was a thinker who planned ahead and just like a sculptor doing his work, Bob always added muscle revealing his cuts strategically.
The workout below is what Bob would use for his arm training. He would train his arms twice a week using supersets to get the biggest pump he could.
Biceps Tri-set:
Barbell Curls 4 X 8 – 12 Reps
D/B Hammer Curls 4 X 8 – 12 Reps
Cable rowing (Single Arm) 4 X 8 -12 Reps

Triceps Tri-set:
Skull Crushers 4 X 8 – 12 Reps
Push Ups (close-palms) 4 X 8 – 12 Reps
D/B Kick-backs 4 X 8 – 12 Reps
For more information go to Old School Arm Training
This publication is presented for information purposes, to increase the public knowledge of health and fitness.
The information presented is not intended for the treatment or prevention of disease, nor a substitute for medical treatment, nor as an alternative to medical advice.
Any of this advice should not be adopted without a consultation with your health professional.