FREE Muscle Building eBook
Add Up to 1 Inch to Your Arms in Only 30 Days!
Enter your first name and a valid email address
for free instant access to this amazing muscle building program.

Boyer Coe Arm Workout
Build Big Arms Workouts

Download Now!
What was Boyer Coe's arm training routine?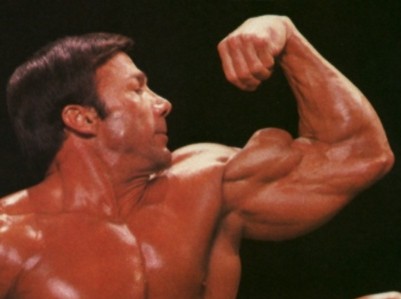 Boyer Coe nicknamed the Ragin' Cajun because he was born in Louisiana Lake Charles on August 18, 1946. Although he did not have the largest body competing at only 5' 7" with his top weight around 225 pounds he still made a huge impact on bodybuilding during his incredible 30 years of competing as a professional bodybuilder.
In fact he is the only professional bodybuilder that managed to compete a total of seven times in one year during 1981. Although training like all the other old school bodybuilders at the time he was probably the first bodybuilder to show a clear distinctive split between his medial and lateral biceps.
Boyer got addicted to pumping iron at an early age and started training at 14 years old which is unusual to find that kind of mindset, dedication and sacrifice required to be a successful bodybuilder as a teenager. It quickly became a way of life for Boyer and he went on to win every major title only missing Mr. Olympia by coming second in 1978.
Boyer is the only bodybuilder who has ever won seven Mr. World titles including four Mr. Universe titles and a Mr. America title in 1969. Boyer was no ordinary bodybuilder and managed his career as very effectively competing consistently for 30 years which only comes from a life of rigorous discipline and routine.
At only 5 ft 7 inches Boyer was able to bench-press 420 pounds when he was 17, he was born to be a bodybuilder. He developed something he called WCT (work-capacity-training) which is similar to the HIT method of training that got lots of publicity but he would use weights to achieve a specific objective with planning, discipline and high intensity.
His WCT method would start by doing sets in pyramid always adding weight until reaching failure at 12 reps. He would then immediately start 12 reps again using the strictest form he could going as slow as possible on both concentric and eccentric movements, rest for 60 seconds, drop the weight and continue.
His weekly split routine that he did for many years looks like this:
Monday: Chest and Back
Tuesday: Shoulders and Arms
Wednesday: Legs
Thursday: Chest and Back
Friday: Shoulders and Arms
Saturday: Legs
Sunday: Rest
For more information go to Old School Arm Training
This publication is presented for information purposes, to increase the public knowledge of health and fitness.
The information presented is not intended for the treatment or prevention of disease, nor a substitute for medical treatment, nor as an alternative to medical advice.
Any of this advice should not be adopted without a consultation with your health professional.