FREE Muscle Building eBook
Add Up to 1 Inch to Your Arms in Only 30 Days!
Enter your first name and a valid email address
for free instant access to this amazing muscle building program.

Dave Bautista Arm Workout
Build Big Arms Workouts

Download Now!
What was Dave Bautista's arm training routine?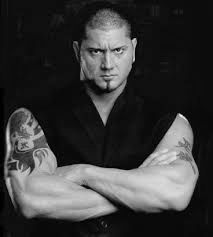 David Michael Bautista was born on January 18th 1969 in Washington, D.C. His mother was Greek and mother his father, David Michael Bautista from Filipino immigrants. Using the ring name of Bautista, he became a 6-time world champion, winning the WWE Championships twice and the World Heavyweight Championship 4 times.
Dave also won the "World Tag Team Championship" three times and the WWE Tag Team Championships twice. Dave has made a huge contribution to professional wrestling and has also won the Royal Rumble match in 2005. He has also been the headline at WrestleMania 21, earning the highest-grossing pay-per-view event ever recorded in the history of professional wrestling.
Batista is a wrestling artist and even when he "retired" he still came back in 2014 and won the WWE Royal Rumble match, headlining again in WrestleMania XXX. Bautista openly admits his poverty stricken home as a child. Saying that by the time he was only 13 three different people had been murdered on his front lawn.
When he was 17 he was stealing automobiles to survive and became a taxicab driver, and other jobs trying to feed his family. But he says that his parents taught him to work hard. He pushed himself consciously and joined a gym only when the exercises he did at home were too easy.
From a regular bouncer at clubs he often landed up fighting and once knocked two people down and one unconscious. He was sentenced to one-year probation. Dave found work as a lifeguard, when he decided to get serious with bodybuilding, which he attributes to saving his life.
Batista uses a training schedule that he says has been working for him as it allows time to recuperate and gives him time in the ring. He trains 3 days a week and depending on the fights on his schedule, he would do 20 minutes of cardio to warm up.
Here is the type of arm workout he used to build his massive arms:
Preacher curls 3 X 10-15 reps
D/B curls 4 X 10-15 reps
Triceps extensions 3 X 10-15 reps
Triceps presses 3 X 10-15 reps
Wrist curls 4 X 10-15 reps
Reverse wrist curls 4 X 10-15 reps
For more information go to Old School Arm Training
This publication is presented for information purposes, to increase the public knowledge of health and fitness.
The information presented is not intended for the treatment or prevention of disease, nor a substitute for medical treatment, nor as an alternative to medical advice.
Any of this advice should not be adopted without a consultation with your health professional.