FREE Muscle Building eBook
Add Up to 1 Inch to Your Arms in Only 30 Days!
Enter your first name and a valid email address
for free instant access to this amazing muscle building program.

Dennis Tinerino Arm Workout
Build Big Arms Workouts

Download Now!
What was Dennis Tinerino's workout routine?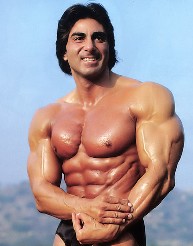 Dennis Tinerino was no ordinary bodybuilder; he was born in Brooklyn on December 23, 1945 as a skinny Italian kid who was so thin that he insisted that his father take him to a gym. After some dedicated training and the gaining of some serious muscle at the YMCA he started to compete.
He would go onto to win the converted Mr. Universe title 4 times in his bodybuilding career as well as Mr. World in 1971 and Mr. America in 1978. Standing at over 6'1" he would compete at around 220 pounds. With massive 20 inch arms he would later in life get into organized crime and be making over $1000 a week just on his arm wrestling.
Owning and running the largest escort agency in California during the 1970's he eventually landed up in jail where he found his true meaning in life and came out to start the Dennis Tinerino Ministries, which he started in 1979 to help others discover the true meaning of life.
Somehow Dennis managed to stay focused on competing as a bodybuilder and in 1984 Robert Kennedy described as a "bodybuilding superstar that has won every major competition except the Mr. Olympia title." He won the Pro Mr. Natural America, which inspired many of his fans at the time.
A man who became a minister for the Gospel of Jesus Christ he has been directly responsible for changing many people's lives over the years and his contribution has been noted by many. Dennis used minister at Bible schools and health clubs as well as prisons and gyms. He also ministered on TV as well as radio in the USA and abroad.
Inspired and often trained by Bill Pearl he used the principal of hard and intense training that got him the well-balanced muscle size, which won him 4 Mr. Universe titles. It was his trial and error that showed him the best way to get ripped before competing but it never came easily for Dennis.
Dennis Tinerino workout routine for mass in the off season was 4 days a week hitting each body part twice. On Monday and Friday he would work his legs, back and biceps. On Wednesday and Saturday he worked chest, shoulders and triceps.
He did 4 to 5 sets for each exercise, increasing the weight and lowering the reps with each set, for example 12, 10, 8 and 6 reps.
For arm size his favorite exercises were dumbbell curls for biceps and dips for triceps.
For more information go to Old School Arm Training
This publication is presented for information purposes, to increase the public knowledge of health and fitness.
The information presented is not intended for the treatment or prevention of disease, nor a substitute for medical treatment, nor as an alternative to medical advice.
Any of this advice should not be adopted without a consultation with your health professional.