FREE Muscle Building eBook
Add Up to 1 Inch to Your Arms in Only 30 Days!
Enter your first name and a valid email address
for free instant access to this amazing muscle building program.

Dolph Lundgren Arm Workout
Build Big Arms Workouts

Download Now!
What was Dolph Lundgren's arm training routine?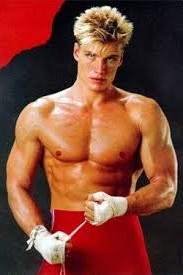 Dolph Lundgren was born as Hans Lundgren in Stockholm Sweden on 3 November 1957. His father was Karl Johan Hugo Lundgren who often used to beat him which Dolph says was a motivation when he was called a loser by his two sisters and his older brother.
Although he was born as Hans Dolfgren he took on the name Dolph which has been his stage name for over 40 different movies that he has made to date. He was interested in Karate when at University studying to become a chemical engineer at Sydney University in Australia where he was studying on a Fullbright scholarship.
He qualified with a Masters degree in chemical engineering and at the same time was also competing in Karate where he eventually attained the rank of 3rd dan in his black beltdoing Kyokushin Karate. Dolph still appears often at these karate competitions and is dedicated to give something back to the sport.
While he was studying he worked as a bouncer at a famous nightclub and met up with Grace Jones who first employed him until they had a relationship which lasted for a few years. He moved to the USA with Grace Jones and started acting in movies using her contacts.
It was not until Rocky IV in 1985 that he became a star acting as the devastating Russian boxer called Ivan Drago. This launched his prolific movie career that was going to give him work for at least another twenty years. From making James Bond movies to Jet Li movies he continues to appear in many movies.
Bodybuilding.com is on record as saying that Dolph is the perfect example of how correct nutrition and training can make a 50 year old man look like a 30 year old man. Dolph has exercised on a regular basis for over 35 years and is 6'6" with 18 inch arms. He says that he heaviest he has ever weighed was 250 for his movie masters of the Universe.
In his training he likes to squat and deadlift on a regular basis. He does not do a lot of isolation movements for his arms and only trains them when he does chest or back. For arm size his favorite biceps exercise is strict close to the body barbell curls and for triceps he likes bench dips.
For more information go to Old School Arm Training
This publication is presented for information purposes, to increase the public knowledge of health and fitness.
The information presented is not intended for the treatment or prevention of disease, nor a substitute for medical treatment, nor as an alternative to medical advice.
Any of this advice should not be adopted without a consultation with your health professional.