FREE Muscle Building eBook
Add Up to 1 Inch to Your Arms in Only 30 Days!
Enter your first name and a valid email address
for free instant access to this amazing muscle building program.

Flex Wheeler Arm Workout
Build Big Arms Workouts

Download Now!
What was Flex Wheeler's arm training routine?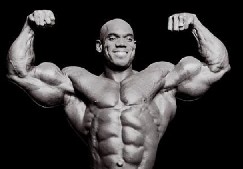 Flex Wheeler was born In Fresno California USA on August 23, 1965 and always had trouble at school but he excelled in all sports and eventually got into bodybuilding. As a professional bodybuilder Flex has made a huge impact on the sport of bodybuilding.
Flex stand 5 ft 9 inches tall or 175 cm and competes at around 210 to 225 pounds ripped to threads. In the off-season he lets his weight go as high as 265 or 275 pounds which is 120-125 kg. His intense training and strict nutrition program is something that he has worked out for his own body and how he can respond to the enormous effort he puts into his sport.
Flex is the total professional bodybuilder winning a total of 17 pro bodybuilding contests from 1993 to 2001, finishing as the runner-up in the Mr. Olympia competition three times. Flex was known by all bodybuilding experts during this time for his flowing symmetry and good lines with a great set of huge upper arms and circular delts.
With his massive 24 inch arms Flex was always asked about his arm training which he answered by telling everyone that because the biceps are relatively small muscles one can reach failure and bang the hell out of them only once a week. Telling anyone that asked he would only do 10 sets of biceps a week.
Explaining that everybody is different and he has worked out that any more than 10 sets will result in overtraining for him. Although he would obviously vary this bicep routine on a regular basis his ten sets would usually consist of the following.
Cambered-bar curls 4 X 10
One-arm preacher curls 3 X 10
Concentration curls 3 X 10
For more information go to Old School Arm Training
This publication is presented for information purposes, to increase the public knowledge of health and fitness.
The information presented is not intended for the treatment or prevention of disease, nor a substitute for medical treatment, nor as an alternative to medical advice.
Any of this advice should not be adopted without a consultation with your health professional.