FREE Muscle Building eBook
Add Up to 1 Inch to Your Arms in Only 30 Days!
Enter your first name and a valid email address
for free instant access to this amazing muscle building program.

Gary Strydom Arm Workout
Build Big Arms Workouts

Download Now!
What was Gary Strydom's arm training routine?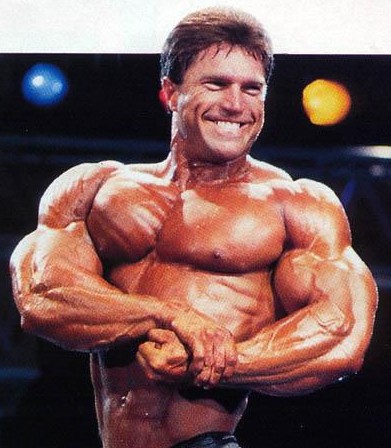 Gary Strydom was born in Durban, South Africa in 1960 and after completing his military training where he trained as a physical instructor he decided to leave for Florida USA with $50 in his pocket and a burning ambition to compete as a bodybuilder.
It took him another two years before he was confident enough to compete and on his debut, which was the NPC Florida Championships in 1983, he walked away as the winner of his division as well as the overall winner and Gary knew he had found his passion in life.
Gary went on to compete successfully for many years and although he never won the Mr. Olympia title he seemed to have won everything else. Gary was one of those unlucky bodybuilders who went in with Vince McMahon's World Bodybuilding Federation (WBF). After winning two WBF competitions he stopped competing for a few years when the organization collapsed.
Standing at 6 ft 2 inches Gary shows off huge 20-inch arms that balance a body packed with 285 pounds of muscle. Gary has always believed in hard training and married a dietitian in order to make sure that his nutrition was always in perfect balance.
It is unfortunate that a gifted bodybuilder like Gary was forced to stop competing because of the politics and the eventual collapse of an organization that he relied on to take his bodybuilding career farther. He is not the first bodybuilder to be affected by this and will certainly not be the last.
Gary owns a clothing company and although no longer competes he still trains regularly and will no doubt continue to train just as hard as he always did. He got divorced and has no children but is often seen at bodybuilding shows and is still in good shape.
His favorite arm movement is close-grip bench-press which is probably why his arms are so massive because he has developed his triceps so effectively. For biceps he loves alternate dumbbell curls. Training arms for Gary is always something that is changing and doing biceps and triceps in the same workout is something that Gary cycles for a week or two every two months.
Gary Strydom is quated at saying "The secret of growth is to make as many different muscle fibers as possible contract at any given moment."
For more information go to Old School Arm Training
This publication is presented for information purposes, to increase the public knowledge of health and fitness.
The information presented is not intended for the treatment or prevention of disease, nor a substitute for medical treatment, nor as an alternative to medical advice.
Any of this advice should not be adopted without a consultation with your health professional.