FREE Muscle Building eBook
Add Up to 1 Inch to Your Arms in Only 30 Days!
Enter your first name and a valid email address
for free instant access to this amazing muscle building program.

Greg Deferro Bodybuilder
Build Big Arms Workouts

Download Now!
What was Greg Deferro's arm workout routine?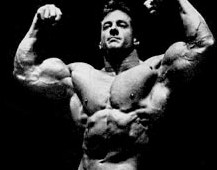 Greg Deferro (June 7, 1953 - January 14, 2007) was a professional bodybuilder in 1980s. He was known as "Rocky" because he looked so much like Sly Stallone.
He started bodybuilding at the age of 15. He came third in the Mr. New jersey- AAU at the age of 19. After competing in several bodybuilding contests, he won Mr International-IFBB, Heavyweight in 1979.
Greg had a good balanced physique with 20 inch biceps.
Greg Deferro was a hard trainer, he trained with free weights rather than machines. He performed his arm workouts twice per week.
Dumbbell curls (warm up)
Preacher curls- 3 sets, 8-10 reps
Barbell curl- 3 sets, 6 reps
Concentration curl 4 sets, 8 reps
Reverse curls - 3 sets, 12 reps
Seated triceps curl- 3 sets, 12 reps
Lying triceps presses- 3 sets, 8-10 reps
Close grip bench press - 4 sets, 12 reps
For more information go to Old School Arm Training
This publication is presented for information purposes, to increase the public knowledge of health and fitness.
The information presented is not intended for the treatment or prevention of disease, nor a substitute for medical treatment, nor as an alternative to medical advice.
Any of this advice should not be adopted without a consultation with your health professional.