FREE Muscle Building eBook
Add Up to 1 Inch to Your Arms in Only 30 Days!
Enter your first name and a valid email address
for free instant access to this amazing muscle building program.

Gregg Valentino Arm Workout Program
Build Big Arms Workouts

Download Now!
What was Gregg Valentino's arm training routine?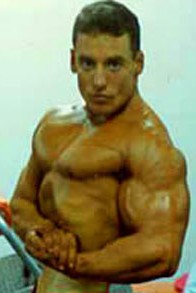 Gregg Valentino is the bodybuilder with 28 inch arms that unless you have been living under a rock and never get online I am sure you will have heard of him.
Gregg started training as a bodybuilder at an early age and won his weight division in a lot of competitions in the 1980's.
As you can see in the picture to the left, before used a combination of Steroids and Synthol to get the biggest arms in the world, he was a natural bodybuilder with the big arms and small waist that all old school bodybuilders worked hard to achieve.
According to Gregg he did not even know what steroids were when he started competing as a bodybuilder. He says that he always had huge arms and when he walked onstage weighing only 143 pounds with 18 inch arms it was easy for him to win.
Gregg also claims that he built 21 inch arms naturally.
He says his secret for building size, was doing low reps 2-3, but high sets 30 or more, he claims to have done as high as 100 sets.
His favorite triceps exercises include skull crushers, french press and triceps push downs.
His favorite biceps exercises include cheat barbell curls, preacher curls and hammer dumbbell curls.
Gregg Valentino is a big believer in Instinctive Training, meaning you have to listen to your own body and find out what works best for you, rather than blindly following the advice of some trainer or bodybuilding champion.
For more information go to Old School Arm Training
This publication is presented for information purposes, to increase the public knowledge of health and fitness.
The information presented is not intended for the treatment or prevention of disease, nor a substitute for medical treatment, nor as an alternative to medical advice.
Any of this advice should not be adopted without a consultation with your health professional.