FREE Muscle Building eBook
Add Up to 1 Inch to Your Arms in Only 30 Days!
Enter your first name and a valid email address
for free instant access to this amazing muscle building program.

Gunnar Rosbo Arm Workout
Build Big Arms Workouts

Download Now!
What was Gunnar Rosbo's arm training routine?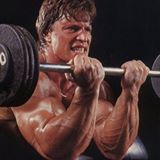 Gunnar Rosbo is a great Danish bodybuilder who came onto the bodybuilding scene with the rise of Arnold and the start of what we now know as "old school bodybuilding". With massive forearms said to measure over 20 inches he quickly became known as the king of forearms in the bodybuilding world.
Gunnar means fighter in most Germanic languages and when Gunnar Rosbo went on stage weighing over 250 pounds and well over 6 foot tall he shocked the bodybuilding world. After competing in a few amateur titles which include the 1975 Mr. Europe when he first started where he placed 4th he decided to train for the Mr. Universe.
He competed in the Mr. Universe in 1977 and placed 6th in the heavyweight division. He later went onto compete as an IFBB bodybuilder competing in the European Amateur Champs 1981 where he won but came second in the World Amateur Championships in the same year.
Unfortunately after getting his pro-card when he placed second at the World Amateur Championships he did not do well and slowly started to disappear from the competitive bodybuilding scene. It is unfortunate that a genetically gifted bodybuilder like Gunnar did not do better in many of the shows that he competed in.
With his massive forearms over-shadowing his well-proportioned body he was often over-looked by the judges in a time when bodybuilders where appearing on stage with more and more muscle each year. But his huge forearms did not only come from good genetics.
His huge forearms that he sported came from hard training where he would do the farmers walk for half an hour after each workout where he would lift the heaviest dumbbells in the gym walking from the squat-rack to the dumbbell rack and back.
For more information go to Old School Arm Training
This publication is presented for information purposes, to increase the public knowledge of health and fitness.
The information presented is not intended for the treatment or prevention of disease, nor a substitute for medical treatment, nor as an alternative to medical advice.
Any of this advice should not be adopted without a consultation with your health professional.