FREE Muscle Building eBook
Add Up to 1 Inch to Your Arms in Only 30 Days!
Enter your first name and a valid email address
for free instant access to this amazing muscle building program.

Ivan Putski Arm Workout
Build Big Arms Workouts

Download Now!
What was Ivan Putski's arm training routine?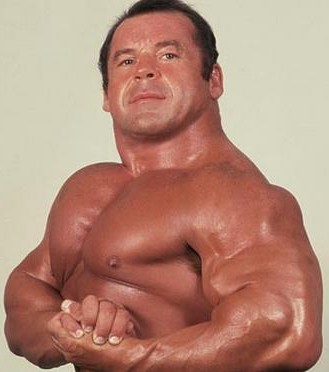 Ivan Putski was born Józef Bednarski in Krakow, Poland on January 21, 1941. He came to America with his parents when he was 9 years old and started training soon afterwards. Nicknamed Polish Power he made a big difference to the wrestling scene in the 1970's.
Although he started off training as a football player he was forced to change his passion to wrestling after a serious knee injury. He later became a WWF Hall of Famer who became very popular with the growing immigrant population in the northeast.
Weighing in at well over 200 pounds and standing only 5 foot 6 inches tall he looked like an unbreakable cube and won many tag Team competitions in the WWE series from the late 1970's to the early 80's. His training was like an Olympic weightlifting training program where we would train hard and intense with the big four basic compound movements.
His high intensity training is astounding for someone who has not developed a resistance to this type of intensity. He would train at least 20 sets per body-part and would not have any problem adding more sets if he was feeling stronger.
With huge 18 inch arms on his small 5'6" frame his arms were impressive training them twice a week with equal intensity. Alternating biceps with triceps he would do 10 sets of lying triceps extensions with 200 pounds without a problem.
He would train with 10 reps most of the time and rarely went lower than 10 reps unless he reached failure sooner than expected with the selected weight. His training style made him train until he reached a point of failure and if he did not reach failure he would train until he did reach failure.
Genetically gifted in strength he was without a doubt the best potential bodybuilder with all his well-balanced symmetry but after years of hard training he finally retired from professional wrestling and we will never know how well he would have done as a bodybuilder.
For more information go to Old School Arm Training
This publication is presented for information purposes, to increase the public knowledge of health and fitness.
The information presented is not intended for the treatment or prevention of disease, nor a substitute for medical treatment, nor as an alternative to medical advice.
Any of this advice should not be adopted without a consultation with your health professional.