FREE Muscle Building eBook
Add Up to 1 Inch to Your Arms in Only 30 Days!
Enter your first name and a valid email address
for free instant access to this amazing muscle building program.

Jean-Claude van Damme Arm Workout
Build Big Arms Workouts

Download Now!
What was Jean-Claude van Damme's arm training routine?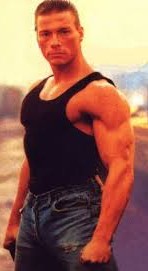 Jean-Claude van Damme was born Camille François Van Varenberg on 18 October 1960 in Berchem-Sainte-Agathe in Brussels Belgium. His father was an accountant and took him to his first karate school at the age of 11 where he went on to get his black-belt in Shotokan Karate.
He attained a black-belt in kickboxing as well and went on to learn ballet for 5 years which he says is a very tough 'sport' saying that if you can make it through a tough ballet workout you can make it through any workout. He then started bodybuilding, which he started at 18 years old and went on to win the Mr. Belgium title.
Competing in semi-contact karate competitions he won 44 times with only 4 losses over a period of 5 years. In 1977 Jean-Claude won the Belgium Lightweight Championship in kick-boxing by beating his rival who had beaten him previously on a point decision by the judges.
He then started competing in full contact kick-boxing where he won 18 fights via knock-out and lost only once by a decision. After retirement from full-contact kick-boxing in 1982 he started making movies with a few cameo roles and only got his big break when the movie Bloodsport which made $1.5 million on the first weekend of its release.
He then later started to direct his own movies, which were not very successful but his all-time box-office hit movie called Timecop grossed well over $100 million in the first 6 months and is still his most profitable movie that he has ever made. He continues to make movies and is soon expected to appear in Timecop 3.
Jean-Claude also has made four different TV movies staring as himself and has been part of 6 different song videos and been selected as the best action movie by MTV. Jeane-Claude has been married four times and his only children came from his third wife who was the competitive bodybuilder Gladys Portugeus and they have a son and a daughter together who are now living in Europe.
Standing at 5'10" and weighing around 180 pounds his well-shaped arms seem bigger than the 18.5 inches that they are. Always keeping his body-fat below 10%, he has managed to portray a bodybuilder type look in most of his movies, often taking his shirt off in the story to impress the audience.
Jean-Claude explains that he still trains regularly with weights saying for arm size he will train his arms twice a week. For biceps he does standing barbell curls, incline dumbbell and concentration curls. For triceps he does lying triceps extensions, cable push downs and one arm triceps extensions..
For more information go to Old School Arm Training
This publication is presented for information purposes, to increase the public knowledge of health and fitness.
The information presented is not intended for the treatment or prevention of disease, nor a substitute for medical treatment, nor as an alternative to medical advice.
Any of this advice should not be adopted without a consultation with your health professional.