FREE Muscle Building eBook
Add Up to 1 Inch to Your Arms in Only 30 Days!
Enter your first name and a valid email address
for free instant access to this amazing muscle building program.

John Defendis Workout
Build Big Arms Workouts

Download Now!
What was John Defendis' arm workout routine?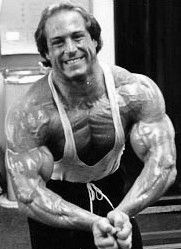 John Defendis is a pro-bodybuilder and a fitness trainer. He started training at the age of ten, after competiting in many bodybuilding shows, he decided to train with Mr America, Steve Machalik to achieve his dreams of becoming a champion.
John defendis became the Mr USA in 1988 at the age of thirty after using the Intensity or Insanity Training System which most bodybuilders considered as "OVERTRAINING". Yet, it worked for him, he built 20 inche biceps.
John Defendis training sessions are brutal with many sets and reps. He'd workout two hours in the morning, and another hour and a half at night. He never did anything less than 30 or 40 sets for his arms.
An example of his arm workout goes like 20 lbs for 20 reps, 25 lbs for 25 reps, 30 lbs for 30 reps, 35 lbs for 35 reps, 40 lbs for 40 reps and so on until the muscles are tortured to failure. He sometimes used forced sets, all sets till failure and non-stop kicking super sets to make it more intense.
10 sets of dumbbell curls
10 sets of concentration curls
10 sets of hammer curls
10 sets of lying Ez-bar triceps extension
10 sets of close grip bench press
10 sets of overhead dumbbell extension
For more information go to Old School Arm Training
This publication is presented for information purposes, to increase the public knowledge of health and fitness.
The information presented is not intended for the treatment or prevention of disease, nor a substitute for medical treatment, nor as an alternative to medical advice.
Any of this advice should not be adopted without a consultation with your health professional.