FREE Muscle Building eBook
Add Up to 1 Inch to Your Arms in Only 30 Days!
Enter your first name and a valid email address
for free instant access to this amazing muscle building program.

Leroy Colbert Arm Workout
Build Big Arms Workouts

Download Now!
What was Leroy Colbert's arm routine?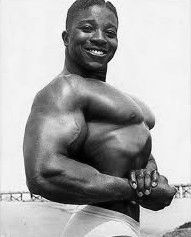 Leroy Colbert was the first bodybuilder to take his arms to 21 inches of massive muscle. What is mind-blowing about Leroy is that he did it naturally. He built those 21 inch guns without relying on drugs. That in itself makes him the top guy to listen to for insight on how to build massive arm muscles. Yes, other guys came along to get 21 inches, and more, but many of them relied on "juice" to do so. Leroy did it without the drugs and proved it is possible to get there naturally.
Leroy made arm training a priority. Instead of tucking it into the middle of a workout, he would focus his energy on his arms. Leroy believed in working the arms rapidly. No slow motion reps for him. He performed his curls with a speed that keep the muscle in control but also moved the weight up fast.
His biceps training centered primarily on concentration curls and seated alternate dumbbell curls.
Leroy built his triceps with a combination of lying French curls, bent arm pullovers, pushdowns and bench dips.
For more information go to Old School Arm Training
This publication is presented for information purposes, to increase the public knowledge of health and fitness.
The information presented is not intended for the treatment or prevention of disease, nor a substitute for medical treatment, nor as an alternative to medical advice.
Any of this advice should not be adopted without a consultation with your health professional.