FREE Muscle Building eBook
Add Up to 1 Inch to Your Arms in Only 30 Days!
Enter your first name and a valid email address
for free instant access to this amazing muscle building program.

Lou Ferrigno Arm Workout
Build Big Arms Workouts

Download Now!
What was Lou Ferrigno's arm training routine?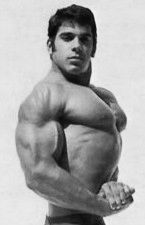 Lou Ferrigno had instant recognition in the bodybuilding world due to his massiveness, being the first giant bodybuilder to step onto the stage. He took his fame a step further when he landed the role for the "Incredible Hulk" television show, and was able to parlay that success into an entertainment career. Lou also did various other movies. Although best known for as the Incredible Hulk, he appeared in even better shape in the movie "Hercules" where his tremendous arm size stood out noticeably.
Lou was able to strike a good balance in his arm development, creating a finished product of arms in the 23 inch range.
His favorite biceps exercises included standing barbell curls, incline dumbbell curls, preacher curls and concentration curls.
His favorite triceps exercises included the pushdowns, lying extensions and the standing french press.
For more information go to Old School Arm Training
This publication is presented for information purposes, to increase the public knowledge of health and fitness.
The information presented is not intended for the treatment or prevention of disease, nor a substitute for medical treatment, nor as an alternative to medical advice.
Any of this advice should not be adopted without a consultation with your health professional.