FREE Muscle Building eBook
Add Up to 1 Inch to Your Arms in Only 30 Days!
Enter your first name and a valid email address
for free instant access to this amazing muscle building program.

Mike Christian Arm Workout
Build Big Arms Workouts

Download Now!
What was Mike Christian's arm training routine?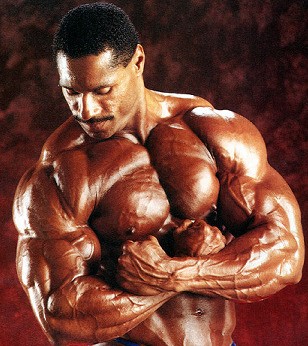 Mike Christian was born in Cleveland Ohio in 1955 on December the 5th. He got into the street life and was part of a gang in the early days. But when his family moved to Oregon Mike turned over a new leaf and started bodybuilding where he won his first competition he ever entered which was the Mr. Portland in 1976.
But Mike was just getting started and later placed in the top 5 at the Mr. America and many different AAU competitions. He competed as the "The Iron Warrior" as a tribute to his gangland days and later went on to earn his pro-card where he competed successfully for over ten years.
From winning the IFBB Mr. California in 1981 to the Grand Prix that was held in Spain in 1989 he was said to have the best back in the business at that time. Competing at around 225 pounds and standing at 6'1" tall he certainly was an imposing figure on stage.
Mike also won the NPC Nationals in 1984 and was never excluded from the top 5 positions in many of the competitions that he entered during that time. In 1988 Mike started his business in the clothing industry marketing under the name of Platinum Clothing.
Unfortunately it was rumored that he got involved with crack cocaine and that he created a problem for himself that he could not handle. He will be remembered as a bodybuilder who always had enormous potential to go the full distance and be the very best in the sport.
Showing huge 20 inch arms with a very well balanced physique he was eventually rewarded by the bodybuilding community by getting his name on the IFBB Bodybuilding Hall of Fame in 2005.
His arm training was old school as most bodybuilders in those days used to combine a routine of hard and heavy using 5 X 5 as well as training to the point of failure.
For biceps he did Barbell Curls, Dumbell Incline Curls, Machine Preacher Curls and Cable Curls.
For triceps he did Close Grip Bench Press, Dumbell Tricep Kick Backs and Cable Push Downs.
For more information go to Old School Arm Training
This publication is presented for information purposes, to increase the public knowledge of health and fitness.
The information presented is not intended for the treatment or prevention of disease, nor a substitute for medical treatment, nor as an alternative to medical advice.
Any of this advice should not be adopted without a consultation with your health professional.