FREE Muscle Building eBook
Add Up to 1 Inch to Your Arms in Only 30 Days!
Enter your first name and a valid email address
for free instant access to this amazing muscle building program.

Mike Katz Arm Workout
Build Big Arms Workouts

Download Now!
What was Mike Katz's arm training routine?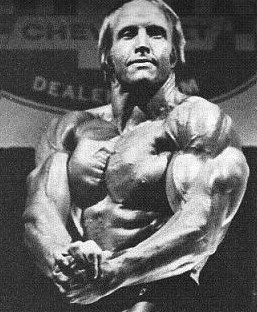 Michael Katz was born in New Haven, Connecticut on November 14, 1944 and started training with weights because he was a thin Jewish kid with glasses that always got picked on by his class mates. Inspired by the 1947 Mr. America Steve Reeves like so many others before and since then he managed to change his body and his lifestyle forever. He not only went on to become a top professional bodybuilder but also played NFL football for the NY Jets.
Mike first competed as a bodybuilder at 18 years old where he won the Mr. Teen Connecticut. He then joined the IFBB in July 1969 and placed second in his first IFBB show in the tall class competing at the Mr. America held in New York City. He went on to win that title the next year.
Born with an enormous strength for persistence and tenacity he went on to win the IFBB Mr. World in September 1972 and also won the best back and best chest later that same year. Mike entered his first Mr. Olympia competition in 1976 where he placed second in the heavyweight division.
He was also featured in the movie Pumping Iron in a memorable scene where Ken Waller steals his T-shirt to psych him out.
Mike never stopped training and was always teaching which he did for 33 years. He held a bachelors degree as well as a master's degrees in both health and physical education where he taught at Hamden High School until he retired in 1999. He retired from competitive bodybuilding after his 15th place at the Mr. Olympia in 1981.
Mike Katz Arm Size
Mike is a perfect example of how sheer determination and will can change a physique with imperfect proportions and genetic "weak links" into a professional bodybuilding career. Standing at 6'1" and competing at 240 pounds he had arms that were around 20 inches when he was at his best.
Mike Katz Workout
His arm training included the standard old school high volume training bodybuilding methods doing as many as 25 sets per muscle group. He used the method for developing arm size by training his biceps with his triceps on the same day. In the off season he would train arms twice a week and before a contest he would work arms three times a week.
His bicep exercises included: Seated dumbbell curls
Concentration curls
Standing dumbbell curls
Preacher Curls
His tricep exercises included: Kickbacks
Pressdowns
Lying French press
Leaning rope extensions
One arm extensions
For more information go to Old School Arm Training
This publication is presented for information purposes, to increase the public knowledge of health and fitness.
The information presented is not intended for the treatment or prevention of disease, nor a substitute for medical treatment, nor as an alternative to medical advice.
Any of this advice should not be adopted without a consultation with your health professional.