FREE Muscle Building eBook
Add Up to 1 Inch to Your Arms in Only 30 Days!
Enter your first name and a valid email address
for free instant access to this amazing muscle building program.

Mike Quinn Workout
Build Big Arms Workouts

Download Now!
What was Mike Quinn's arm workout routine?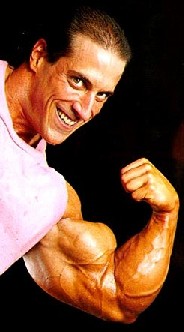 "Mighty" Mike Quinn (November 18, 1961) is a pro bodybuilder and a fitness trainer. He started bodybuilding as an endomorph at the age of thirteen. After competing for many years, he later won the teenage Mr. America title and NABBA Mr. Universe title. Mike Quinn arm size at his peak was 21.5-inches.
Mike Quinn performs his arms workout twice per week. He trains his arms with heavy weight and high intensity. Mike applies forced reps principle most times to work the muscles past failure and force it to grow.
Dumbbell biceps curl - 3 sets, 6 reps
Concentration curl - 3 sets, 8-10 reps
Alternate incline dumbbell curl - 3 sets, 10 reps
Reverse barbell curl - 2 sets, 12 reps
Dips - 3 sets to failure
Triceps pushdown - 3 sets, 8 reps
Dumbbell kickback - 3 sets, 10 reps
For more information go to Old School Arm Training
This publication is presented for information purposes, to increase the public knowledge of health and fitness.
The information presented is not intended for the treatment or prevention of disease, nor a substitute for medical treatment, nor as an alternative to medical advice.
Any of this advice should not be adopted without a consultation with your health professional.