FREE Muscle Building eBook
Add Up to 1 Inch to Your Arms in Only 30 Days!
Enter your first name and a valid email address
for free instant access to this amazing muscle building program.

Mr. T Arm Workout
Build Big Arms Workouts

Download Now!
What was Mr. T's arm training routine?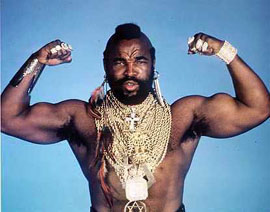 Mr. T who was born as Laurence Tureaud on May 21, 1952 in Chicago Illinois as the youngest son of 12 children in a housing project on the bad side of Chicago. Laurence went to study at the Dunbar Vocational High School where he won the wrestling championships for two years in a row.
He later became a well-known household name as B. A. Baracus or Mr. T in the 1980s television series called The A-Team. He also appeared as a boxer in the 1982 Rocky III film and many other movies as well as the TV serial Silver Spoons. But his main career as well as wresting in WWE and being Hulk Hogans tag partner was working as a bodyguard where he got paid up to $10,000 a day for his protection services.
From motivational speaking to body-guarding clients like Mohammed Ali and Steve Macqueen he made a good living with his acting career as well.
Mr. T's Arm Size
In an episode during 1981 there was a scene during the A-team show where Mr. T needed a new set of clothes and the saleslady measured his arm to be 22 inches with his clothes on.
However the truth is a little more different as at a height of only 5'10" he would have probably had 19 or maybe 20 inch arms when he was all pumped up, but 22 inches is very unlikely for a person who trained as a wrestler and not a bodybuilder. He still trained his arms twice a week when he was training as a wrestler but never competed as a bodybuilder.
Mr. T's Workout
Although Mr. T never competed as a bodybuilder he still trained similar to a bodybuilder on a regular basis. His published arm training routines were hard old school workouts. He trained his arms twice a week for about 8 sets at each session.
For triceps he did Lying Tricep Extension, Straight Bar Tricep Pushdowns and Triceps Ladder exercise.
And for biceps Standing Barbell Curls, Incline Dumbbell Curls and Cable Hammer Curls.
For more information go to Old School Arm Training
This publication is presented for information purposes, to increase the public knowledge of health and fitness.
The information presented is not intended for the treatment or prevention of disease, nor a substitute for medical treatment, nor as an alternative to medical advice.
Any of this advice should not be adopted without a consultation with your health professional.