FREE Muscle Building eBook
Add Up to 1 Inch to Your Arms in Only 30 Days!
Enter your first name and a valid email address
for free instant access to this amazing muscle building program.

Peary Rader Workout
Build Big Arms Workouts

Download Now!
Peary Rader Clean and Jerk Program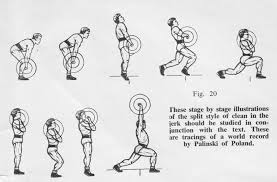 Peary Rader who was the founder of the world famous Iron Man Magazine was very keen on hard training and wrote at length about his high repetition squat and deadlift program that he advocated would build serious muscle very quickly.
Peary developed a clean and jerk program, which should not be attempted by someone who does not have perfect form when it comes to doing a clean and jerk correctly. It is an extremely taxing workout and the weight that you might be able to do one or two clean and jerks quickly changes when you are doing high reps.
His clean and jerk workout required 12 reps of clean and jerk and after a 2 minute rest to complete the set with 15 pullovers with a dumbbell. The first set really takes the wind out of you and when you start on the second set you see how tough this workout really is.
He recommended that you start with 2 sets of 10 reps superset with D/B pullovers. This he put down as only a warm-up before the real workout starts when the first set of 12 reps is done with the maximum amount of weight that one can handle for the complete set.
After the weight is lightened by about 20% another 12 reps are done which are superset with D/B pullovers. The weight is then lightened again and the last set of 20 reps is done. He wrote about this workout saying that if done on a regular basis three times a week would guarantee an increase in lean body mass.
Peary was very specific about the breathing when doing this routine and insisted that three to six deep breaths be taken between each rep and that the trainee should stand up without the weight and take these breaths before doing the next rep.
This routine can also be done using kettlebells or dumbbells but even sandbags can be used as long as the clean and jerk is done correctly with a perfect form. He insisted that it is only this type of high intensity workout, which will be able to produce enough testosterone to produce muscle growth.
For more information go to Old School Arm Training
This publication is presented for information purposes, to increase the public knowledge of health and fitness.
The information presented is not intended for the treatment or prevention of disease, nor a substitute for medical treatment, nor as an alternative to medical advice.
Any of this advice should not be adopted without a consultation with your health professional.