FREE Muscle Building eBook
Add Up to 1 Inch to Your Arms in Only 30 Days!
Enter your first name and a valid email address
for free instant access to this amazing muscle building program.

Rheo H. Blair Protein
Build Big Arms Workouts

Download Now!
Rheo Blair Workout and Protein Diet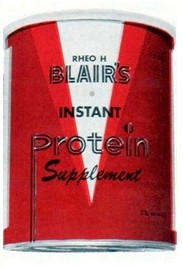 Rheo Blair who was born as Irwin P Johnson is someone who believed and later proved that the ingredients based on mother's milk is the best quality protein to build and maintain muscle on the body. His diets and his workouts became known as the answer to muscle gain working as a nutritionist in Hollywood.
Selling his new high quality protein drink that was also a meal replacement he became the personal trainer to the top film stars and athletes all over the world. The top professional bodybuilders like Arnold, Frank Zane, Larry Scott and many others were able to show a fullness of muscle never seen before in bodybuilding.
Rheo himself came from a background where he also used to train like a bodybuilder trying desperately to gain muscle. Through a lot of trial and error he became convinced that it was all to do with the quality of the protein that one takes to enable the most rapid growth.
He strongly believed that it was mothers breast milk, which held the answer. He added these enzymes found in mothers milk like colostrum as well as lactoferrin which he believed together with their strong immune boosting properties made it the answer to gaining muscle fast.
His famous protein mix that he sold to bodybuilders and movie stars was all based on a specific amino acid mix that is exactly the same as mothers milk. But Rheo offered more than just his magic shake as his personal training with his recommended exercises was something that was sort after in California.
His protein shake together with his hard hitting volume-based weight training routine was responsible for many 97 pound weaklings turning into strong muscle bound men.
In 1967 in an issue of Iron Man magazine a professional bodybuilder said that after only three weeks on Rheo's system he had gained more muscle than he had in the last 6 years.
Unfortunately Rheo died an untimely death in the 1980's and there are bodybuilders from that time who still say that his protein powder and his amino acid capsules are nothing like what is available today. It was his combination of the various quantities of amino acids and enzymes, which made the difference.
For more information go to Old School Arm Training
This publication is presented for information purposes, to increase the public knowledge of health and fitness.
The information presented is not intended for the treatment or prevention of disease, nor a substitute for medical treatment, nor as an alternative to medical advice.
Any of this advice should not be adopted without a consultation with your health professional.