FREE Muscle Building eBook
Add Up to 1 Inch to Your Arms in Only 30 Days!
Enter your first name and a valid email address
for free instant access to this amazing muscle building program.

Ric Drasin Arms Workout
Build Big Arms Workouts

Download Now!
What was Ric Drasin's arm training routine?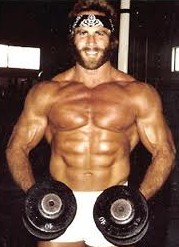 Richard Alan Drasin was born in Bakersfield California on July 12, 1944 and by the age of 10 years old was already going to see wrestling matches with his father. Ric has made an enormous contribution to both bodybuilding and wrestling where he spent 36 years competing as a professional wrestler.
He will leave his mark permanently on the health and fitness industry, as he is the person responsible for designing that bald headed bodybuilder on the well-known Gold's Gym logo. He also designed the World's Gym logo both of which are still being used today.
Ric was a multi-talented man who was not only a talented cartoonist but also a very talented musician in the 1960's who was part of a band that went on to sell records until the band separated as they all started to get jobs and get married. His life and his athletic challenge started when he moved to California and started training at Gold's Gym in Venice beach with Arnold Alois Schwarzenegger.
Although he was already competing as a wrestler he always trained as a bodybuilder and entered and won the Mr. Venice Beach bodybuilding competition in 1972. He was Arnold's training partner for 4 years at Gold's Gym.
His first movie was acting as a wrester in a movie called Ben in 1972, which was the start of a long career of making commercials and doing cameo stints in many different movies. But his passion was wrestling and after retiring at 57 years old with a string of wrestling titles behind his name he started writing and doing webinars.
Ric won the AWF heavyweight wresting championship as well as the CCW and the GCW championship in wrestling which started off in 1965 when he won the Rookie of the Year award for the NWA (National Wrestling Alliance). He continues to be seen on TV from hosting at the WWE to talk shows, expos and has been awarded the Joe Gold's lifetime achievement award as well as the Legends in Wrestling & Sports Achievement Award.
Ric Drasin Arm Size
Standing 6 foot tall and competing at 222 ponds Ric certainly was a force to be reckoned with when in the ring. His typical old school bodybuilding that he did gained him an enormous amount of extra lean body muscle. Said to have arms of 20 inches he certainly has learned to train by the best.
Ric Drasin Workout
When Ric Drasin was training with Arnold, they worked arms twice a week in the off season and three times a week when getting ready for a contest.
A typical bicep workout would be incline dumbbell curls, barbell curls and one arm dumbbell concentration curls.
For triceps they usually did cable pushdowns, one arm dumbbell extensions and lying easy curl bar extensions.
For more information go to Old School Arm Training
This publication is presented for information purposes, to increase the public knowledge of health and fitness.
The information presented is not intended for the treatment or prevention of disease, nor a substitute for medical treatment, nor as an alternative to medical advice.
Any of this advice should not be adopted without a consultation with your health professional.