FREE Muscle Building eBook
Add Up to 1 Inch to Your Arms in Only 30 Days!
Enter your first name and a valid email address
for free instant access to this amazing muscle building program.

Rocky Johnson Arm Workout
Build Big Arms Workouts

Download Now!
What was Rocky Johnson's arm training routine?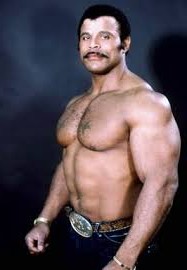 Rocky Johnson was born Wayde Douglas Bowles on August 24, 1944 in Amherst, Nova Scotia, Canada but today he is retired and lives in Davie, Florida, USA. Although he was a NWA and a WWF heavyweight wrestling champion in the 1970's and 1980's he is also famous for being the father of the well-known actor professional wrestler "The Rock" Johnson.
Rocky made his debut in professional wrestling in 1964 and had a dramatic impact on professional wrestling winning the wrestling championships of the National Wrestling Alliance (NWA) as well as the NWA Southern Heavyweight Memphis Champion and many other championships including the WWF.
Rocky started training at an early age and obviously had a major influence in training his son who is said to have 21 inch arms but Rocky spent a lot of time in the gym training to increase his strength in wrestling. He retired in 1991 and has been training on a daily basis for over 25 years.
As a talented wrestler the experts agree that he is more talented than his son The Rock who also was a professional wrestler before he became a movie star.
Standing 6 feet and 2 inches tall at around 263 pounds and was a ball of fire in the ring displaying enormous talent as a professional wrestler. It is rumored that he once had 22 inch arms which is easy to believe when we look pictures oh him in his prime.
One big secret of Rocky Johnson's arm training was how hard he worked to build strength in the basic exercises, for example on Flat Bench Presses he worked up to nearly 500 pounds for a few reps. And on barbell rows he would use over 300 pounds.
If you are pushing and pulling that kind of weight your triceps and biceps can't help but grow!
For more information go to Old School Arm Training
This publication is presented for information purposes, to increase the public knowledge of health and fitness.
The information presented is not intended for the treatment or prevention of disease, nor a substitute for medical treatment, nor as an alternative to medical advice.
Any of this advice should not be adopted without a consultation with your health professional.