FREE Muscle Building eBook
Add Up to 1 Inch to Your Arms in Only 30 Days!
Enter your first name and a valid email address
for free instant access to this amazing muscle building program.

Rory Leidelmeyer Arm Workout
Build Big Arms Workouts

Download Now!
What was Rory Leidelmeyer's arm training routine?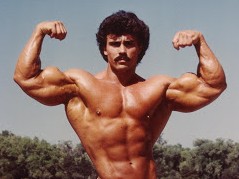 Rory Leidelmeyer is one of the greatest bodybuilder who trained in 1970's and 1980's. He was a former Mr. America but never turned pro because of injury.
He is also known as Mr. Symmetry because he has a perfectly balanced physique. Rory Leidelmeyer had 21-inch biceps.
Rory leidelmeyer trained his arms twice per week with a training system known as the 100s. It involves doing 100 reps for each exercise.
3 sets and many forced reps are done to get to 100 reps.
For example:
Alternate hammer curls - 3 sets - 60, 20, 20 reps
Preacher curl - 3 sets - 40, 30, 30 reps
Incline dumbbell curls - 3 sets - 30, 30, 30, 10 reps
Triceps pushdown - 3 sets - 50, 30, 20 reps
Close-grip dumbbell press- 3 sets - 60, 20, 20 reps
Dumbbell triceps kick back - 3 sets - 40, 40, 20 reps
Rest- 30/60 seconds rest between sets
For more information go to Old School Arm Training
This publication is presented for information purposes, to increase the public knowledge of health and fitness.
The information presented is not intended for the treatment or prevention of disease, nor a substitute for medical treatment, nor as an alternative to medical advice.
Any of this advice should not be adopted without a consultation with your health professional.