FREE Muscle Building eBook
Add Up to 1 Inch to Your Arms in Only 30 Days!
Enter your first name and a valid email address
for free instant access to this amazing muscle building program.

Roy Callender Arm Workout
Build Big Arms Workouts

Download Now!
What was Roy Callender's workout routine?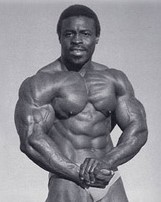 Roy Callender was one of the top professional bodybuilders as the Big Arm era came to an end. Callender, a Canadian star who moved into the top circles, winning an assortment of titles, including the IFBB Pro Universe, had a great pair of arms.
Roy was a hard training bodybuilder. He was considered one of the hardest trainers of all time. And like many old schooll bodybuilders, Roy would perform a considerable amount of work on this physique. In fact at some points he spent several hours working on his body in one session!
Roy won national titles in National titles in every country in which he has resided, including Mr. Caribbean (Mr. West Indies) Mr. United Kingdom, Mr. Europe and Mr. Canada. In addition to training long and hard, Roy was known for his great form when performing the various exercises.
Biceps - Standing Barbell Curl, Incline Dumbbell Curl and Seated Dumbbell Concentration Curl.
Roy's biceps training was fairly simple but contained a lot of volume. He spent more training time on the triceps, and used a variety of tools in which to build them, including a lot of pulley work.
Triceps - Pullover and Press, Incline Pulley Tricep Extensions, Lying Dumbbell Tricep Extensions, High Pulley and Long Cable Tricep Extensions.
For more information go to Old School Arm Training
This publication is presented for information purposes, to increase the public knowledge of health and fitness.
The information presented is not intended for the treatment or prevention of disease, nor a substitute for medical treatment, nor as an alternative to medical advice.
Any of this advice should not be adopted without a consultation with your health professional.