FREE Muscle Building eBook
Add Up to 1 Inch to Your Arms in Only 30 Days!
Enter your first name and a valid email address
for free instant access to this amazing muscle building program.

Shawn Ray Arm Workout
Build Big Arms Workouts

Download Now!
What was Shawn Ray's arm training routine?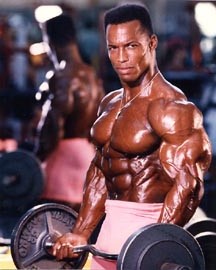 Shawn Ray was born in Placenta California on September 9 and is without a doubt the most genetically gifted bodybuilder that never won the Mr. Olympia title. Competing in over 30 different top bodybuilding shows in 30 years he only failed once to place in the top 5.
Shawn certainly has made an enormous contribution to the sport of bodybuilding and is a proud member of the Bodybuilding hall Of fame. He has been featured in 6 different documentaries on bodybuilding as well as being featured on ESPN.
Shawn has now appeared in more Flex magazines than any other bodybuilder in the history of this well-known bodybuilding magazine. He was the main host for bodybuilding shows on ESPN for 5 years and worked as a commentator on ESPN for a total of 8 years.
Shawn is also the only bodybuilder in history to compete at the Mr. Olympia a total of 12 times always coming in the top 5 but never winning. After his retirement in 2001 Shawn continued to contribute to the sport and held many different "muscle camps" all over the country.
At 5'8" Shawn would compete at around 215 pounds of solid ripped to shreds muscle with perfect proportions. His narrow waist and 19 inch arms made him look like a winner which got him the title of the IFBB Night of the Champions in 1988 and the IFBB Arnold Classic in 1991.
Shawn has always been very scientific when it comes to training his huge arms which he says are often able to repair from a grueling high intensity workout faster than many other body-parts. He splits his arm training up into three different categories.
The first he calls mass training which is using lots of heavy weight with very low reps. The second definition of his training is called peaking exercises which consists of doing full range of motion always emphasizing the top of the concentric contraction for maximum results.
The last of these movements that he does for his arm development is concentration movements. This is the slow and very deliberate movement always done under full control both eccentric and concentric lasting up to 4 seconds to complete.
For more information go to Old School Arm Training
This publication is presented for information purposes, to increase the public knowledge of health and fitness.
The information presented is not intended for the treatment or prevention of disease, nor a substitute for medical treatment, nor as an alternative to medical advice.
Any of this advice should not be adopted without a consultation with your health professional.