FREE Muscle Building eBook
Add Up to 1 Inch to Your Arms in Only 30 Days!
Enter your first name and a valid email address
for free instant access to this amazing muscle building program.

Tony Pearson Arm Workout
Build Big Arms Workouts

Download Now!
What was Tony Pearson's arm training routine?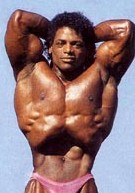 Tony Pearson was was born on January 11, 1957 in Memphis, Tennessee USA. And only after he was seen by Arnold training at a gym did he discover his true passion and went on to become one of the greatest bodybuilders of all time.
Standing 5 ft 8 in Tony competed ripped to shreds at well over 200 pounds of solid muscle. With a 60 inch chest a 27 inch waist and 20 inch arms he was one of the best bodybuilders in his time. Like many other bodybuilders he started training because he got a serious knee injury competing as a wrestler when he was at school.
After training a couple of years he moved to Venice Beach the mecca of bodybuilding where he was discovered by Arnold. He started training with the well-known bodybuilder Ken Waller as well as Dave Johns and Samir Bannout.
With Arnold as his mentor and training with great bodybuilders he was destined for success and landed up winning the Mr. America title in 1978. Showing great symmetrical lines including his razor sharp definition he got the nickname of "The Michael Jackson of Bodybuilding."
Tony was one of the many instinctive trainers at that time where he would vary all his workouts depending on his mood and how he felt when training. Instinctive training is not as simple as it might sound as Tony would pick up a weight and start doing reps without any specific ending or set in mind.
Tony calls it his "mental current workout" where everything else is shut out willing physio-electricity into the body part he is working on. For example his arm workout would start with triceps where he would do a set to failure without counting reps and move onto the next movement without taking any break at all.
Some of Tony's favorite bicep and tricep exercises were machine curls, regular barbell curls, triceps pushdowns on the lat machine and standing triceps extensions, using a heavy dumbbell.
For more information go to Old School Arm Training
This publication is presented for information purposes, to increase the public knowledge of health and fitness.
The information presented is not intended for the treatment or prevention of disease, nor a substitute for medical treatment, nor as an alternative to medical advice.
Any of this advice should not be adopted without a consultation with your health professional.