FREE Muscle Building eBook
Add Up to 1 Inch to Your Arms in Only 30 Days!
Enter your first name and a valid email address
for free instant access to this amazing muscle building program.

Ultimate Warrior Arm Workout
Build Big Arms Workouts

Download Now!
What was the Ultimate Warrior's arm training routine?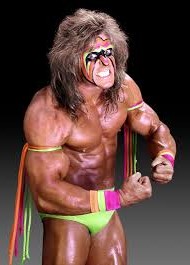 Although the name officially taken on my himself and his family the Ultimate Warrior title now officially belongs to James Brian Hellwig. He has taken WWE to court on several occasions in order to prove this. James was born on 16th June 1959 in Crawford, Indiana and at Indiana State University started training seriously as a bodybuilder.
He entered a few NPC competitions before he started wrestling and won the NPC championship Mr. Georgia in 1984. He placed 5th in the Mr. America and was also selected as a future pro bodybuilder. James was invited to attend a training camp where bodybuilders are taught about professional wresting which changed his life.
He started off as a member of the Powerteam USA where he was "Justice" and was trained by the well-known Red Bastien. He later went on to place second in the WCWA Texas Heavyweight Championships a year later and then went on to be a regular fighter for WWE.
The day before he died of a heart attack in his Scottsville home in Arizona he was inducted in the WWE Hall of Fame which was on the 8th April 2014. Coming from what he describes as a skinny kid who was not into sport to become a legend in the professional wresting industry which he dominated for many years.
Ultimate Warrior's Arm Size
Billed at a height of 6'2" and around 275 pounds, he had huge 20 inch arms.
Ultimate Warrior's Workout
When James turned from becoming the next professional bodybuilder to competing as a professional wrestler he changed his training slightly in order to gain and hold more muscle than he did as a bodybuilder. This was also tempered by his intense training that he needed to do as a wrestler. He felt that training like a bodybuilder while being a wrester became impractical. So he changed isolation movements that he would do for his arms.
His favorite exercises for triceps were Seated Dumbbell Tricep Extensions and Gironda Tricep Extensions.
His favorite exercises for biceps were Seated Alternate Dumbbell Curls, Seated Dumbbell Hammer Curls and Preacher Bench Curls.
For more information go to Old School Arm Training
This publication is presented for information purposes, to increase the public knowledge of health and fitness.
The information presented is not intended for the treatment or prevention of disease, nor a substitute for medical treatment, nor as an alternative to medical advice.
Any of this advice should not be adopted without a consultation with your health professional.